Sign Dixie's
Guestbook


View Dixie's
Guestbook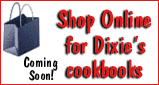 Triple Layer Chocolate Bars

1 1/1 cups graham cracker crumbs
1/2 cup baking cocoa
1/4 cup sugar
1/2 cup margarine, melted
1 can sweetened condensed milk
1/4 cup unsifted flour
1 egg
1 teaspoon vanilla extract
1/2 teaspoon baking powder
3/4 cup chopped nuts
1 12-ounce package semi-sweet chocolate chips

Preheat oven to 350. Combine crumbs, ¼ cup cocoa, sugar, and margarine; press firmly on bottom of 13x9-inch baking pan. In bowl, beat remaining ingredients except nuts and chips. Stir in nuts. Spread over prepared crust. Top with chips. Bake 25 minutes or until set. Cool. Store tightly covered.