Sign Dixie's
Guestbook


View Dixie's
Guestbook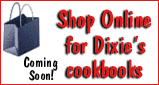 CHOCOLATE MARSHMALLOW SUNDAE BARS
Bars:
1 cup butter/margarine
½ cup baking cocoa
4 eggs
2 cups sugar
1 1/2 cups flour
1 cup chopped pecans
1 cup flaked coconut
1 7-ounce jar marshmallow creme
Frosting;
1/2 cup butter/margarine
1/2 cup cocoa
1/2 cup evaporated milk
4 cups powdered sugar
1 teaspoon vanilla
1 cup chopped pecans
To make the bars: preheat oven to 350. Grease 9x13-inch baking pan. Melt butter and cocoa together. In a large bowl, combine eggs, sugar, and flour. Add cocoa mixture; mix well. Stir in nuts and coconut. Pour into prepared baking pan. Bake 30 minutes. Meanwhile, prepare frosting. When baked, spread bars with marshmallow creme immediately. To make frosting: melt butter. Stir in cocoa; then milk. Gradually add sugar. Beat until smooth. Add vanilla and nuts. Spoon frosting onto bars as soon as marshmallow creme is spread. Note: it will not spread evenly, but will produce a marbled effect. Cool and cut into very small squares because they are very rich.